Geoscience BC Announces Launch of $2.5 Million Nechako Basin Seismic Survey
July 7, 2008 -Geoscience BC is pleased to announce that CGGVeritas of Calgary, Alberta have initiated a Vibroseis seismic reflection survey in the Nechako Basin west of Quesnel, in the heart of the Mountain Pine Beetle affected area of interior BC.
This $2.5 million survey, totaling approximately 350 line-kilometres of new seismic data acquisition, has been funded with $2 million from Geoscience BC and $0.5 million from the Northern Development Initiative Trust Pine Beetle Recovery Account. This project represents a major component of Geoscience BC's interior basins oil and gas geoscience program originally funded in April 2005 with a $5 million grant to Geoscience BC from the Provincial government. The area of the survey is largely contained within the Nazko First Nation's Traditional Territory, and CGGVeritas is providing training and employment opportunities to some members of the Nazko FN.
"Successful oil and gas development in the Nechako Basin has the potential to help offset the economic impacts of the Mountain Pine Beetle infestation," said Richard Neufeld, Minister of Energy, Mines and Petroleum Resources. "We are committed to improving geoscience information and First Nations engagement throughout British Columbia as key parts to the long term success of this initiative and this year's funding of $5.7-million as well as $5-million in 2005 will continue to achieve that goal."
This seismic reflection survey in the Nechako will be the first seismic work to be carried out in the area since the early 1980s when Canadian Hunter collected approximately 1300 km of seismic data using Vibroseis. Although 5 wells were drilled in the early 1980s as a result of this program, hydrocarbon exploration in the area ceased soon after.
"The seismic data collection will happen in a very environmentally friendly way along our existing forest road network, and will not involve cut lines or access trails across the landscape like you see in Alberta" noted Bruce Sutherland, Chair of the Northern Development Initiative Trust. "Our communities are very optimistic that the half million that we have invested to enlarge this survey will result in exploration and diversification opportunities for companies hit so hard by the forest industry downturn. This is exactly what the Pine Beetle Recovery program should be doing in terms of the economy and the public interest."
"The data collected during this survey will provide information for Geoscience BC and its partners to design new seismic and other geoscience projects in central BC," said 'Lyn Anglin, President and CEO of Geoscience BC. "The data will assist in determining the petroleum potential of the Nechako Basin which at present is not well understood."
This survey complements ongoing seismic monitoring, geophysical and geological studies of the Nechako Basin being supported by Geoscience BC in partnership with Simon Fraser University, the University of British Columbia the BC Ministry of Energy, Mines and Petroleum Resources, and Natural Resources Canada.
Geoscience BC is an industry-led, industry-focused, non-profit organization. Its mandate includes the collection, interpretation and marketing of geoscience data and expertise to promote investment in resource exploration and development in British Columbia. Geoscience BC works in partnership with industry, academia, government, First Nations and communities to attract mineral and oil & gas investment to BC.
For more information please see Geoscience BC's website at www.geosciencebc.com.
For more information, please contact: 'Lyn Anglin President and CEO Geoscience BC (604) 290-1194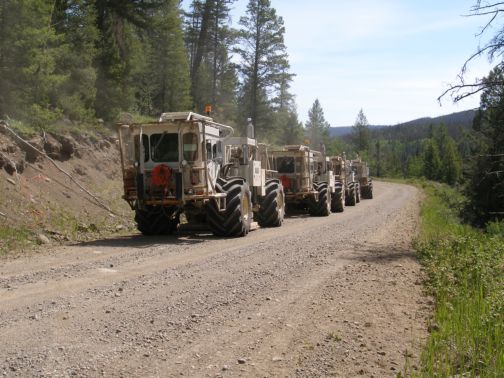 Seismic surveys use sound waves to produce images of the rock formations below the earth's surface. These images provide critical data needed to identify formations and structures with the potential to host oil and gas deposits. Vibroseis surveys create sounds waves using vibrator plates mounted on the base of a series of large trucks, pictured here working in the Nechako Basin. (Photo courtesy of A. Calvert, Simon Fraser University and Geoscience BC)