To be a leading partner and provider of credible and relevant earth science research and data in British Columbia.
Research Themes
Critical Minerals and Metals
Critical metals and minerals are essential resources used in the manufacture of products needed for the transition to a lower carbon and more circular economy. Given very prospective geology, diverse mineral deposits and a wealth of exploration and mining talent, BC is well positioned to become a global leader in the development and production of critical metals and minerals. With exploration spending at a near record $660 million in the province in 2021, and with the demand for critical minerals expected to increase significantly, BC's production could grow to help meet the global need for these resources. Public geoscience attracts investment to target mineral exploration and development opportunities: A study of our minerals research projects shows that for every $1 invested by Geoscience BC, there is a corresponding $6.60 of investment in mineral exploration. It is also used by communities and Indigenous groups to inform decisions.
View Project
Cleaner Energy
BC's natural gas sector produces some of the cleanest and lowest emission intensity natural gas in the world. Aligning with federal and provincial net-zero transition strategies, Geoscience BC's publicly-available research provides key data on emissions, seismicity and water use that enables more informed decision-making by governments, communities, Indigenous groups and the natural gas industry.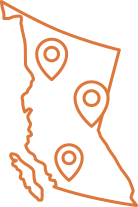 Earth Science Viewer
Geoscience BC's Earth Science Viewer is an online tool that consolidates all project and report data released through Geoscience BC and its project Proponents.
News
May 16, 2023
Supporting BC's Hydrogen Sector with Geological Research and Community Action 
May 09, 2023
Geoscience BC Scholarship Program 2023 Application Deadline has been extended to Tuesday, May 23! Sponsorship Opportunities are still available.
May 02, 2023
The Next Generation of Energy Geoscience Research