Digging Deep: Geoscience BC's Evolution - An Update - November 2022
Geoscience BC is building a sustainable model to attract investment, deliver on economic development and tackle environmental and social challenges. With your help it can succeed.
Our society needs more critical minerals and metals; more clean energy; and more proven opportunities to geologically capture and store carbon emissions as part of a transition to a low carbon economy. It is a major effort that requires collaboration and new ways of working together.
Open data and science is part of the solution. Combined with solid community engagement it supports huge opportunities for reconciliation with Indigenous peoples, attracting investment, creating diverse job opportunities and ensuring secure mineral supply chains.
It is what Geoscience BC does best: we know our collaborative research drives investment in mineral exploration and in cleaner energy development. It can also catalyze new carbon storage and hydrogen opportunities.
---
Evolution
Geoscience BC has changed fast to meet evolving demands on public geoscience. We are ready to continue to deliver with a new model that is more balanced and sustainable because it includes contributions from federal and provincial governments, industry, trusts and others.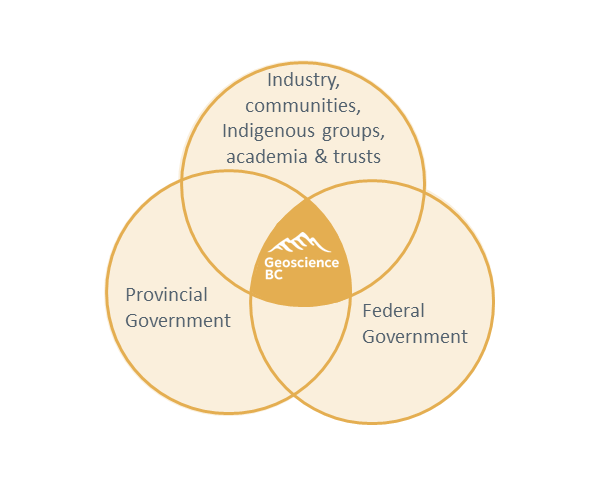 Our new model includes:
Launching new Geoscience BC membership classes in January 2022. We now have over 135 members. Many members have indicated an interest in funding research alongside governments.
Continuing to request funding from the Province of British Columbia. This has been met with broad support, including multiple recommendations from the

BC Standing Committee on Finance and Government Services

, the Union of BC Municipalities and the BC Chamber of Commerce.
New federal government contributions to Geoscience BC research that aligns with federal objectives and has wide impacts far beyond British Columbia.

View Geoscience BC's submission to the 2023/24 budget consultation here

.
The model is practical, includes new opportunities to be part of the conversation, and demonstrates that shared investments deliver shared benefits.
If you are not already a Geoscience BC member, join here and share it @GeoscienceBC posts on social media. You can support us by sending a letter (there's a template here) or discussing us in conversation with your local MP or MLA; and you can encourage others to join the conversation too.
A series of Project Concepts are integral to this model: proposed research programs and projects that we hear there is a need for, but they require your feedback as well as in-kind and financial contributions to initiate.
Whether your interests lie in critical minerals and metals, in cleaner energy or in geological carbon storage, consider how you or your organization can contribute and benefit from these seven Project Concepts – or let us know if you see other public geoscience needs that Geoscience BC can meet:
---
Thank you to everyone – including industry, business, communities, Indigenous groups, academia and more – that have helped so far by joining Geoscience BC and by sending letters of support. It inspires us to continue, knowing Geoscience BC can meet the challenges of today and the future.