The Next Generation of Geoscientists: 2020 Geoscience BC Scholarship Program Recipients
Vancouver, BC – June 16, 2020
– The next generation of geoscience researchers in British Columbia has received a boost with the announcement of 2020 Geoscience BC scholarship recipients.
Ten post-graduate geoscience students will each receive a $5,000 scholarship for their applied geoscience research related to either minerals, energy or water resources in the province.
Geoscience BC's Scholarship Review Committee, which is made up of experienced geoscientists with a broad range of geoscience expertise, reviewed and evaluated applications. Scholarships are awarded to students based on their project's technical merit as well as their interest in natural resource development and management, volunteer work and academic progress.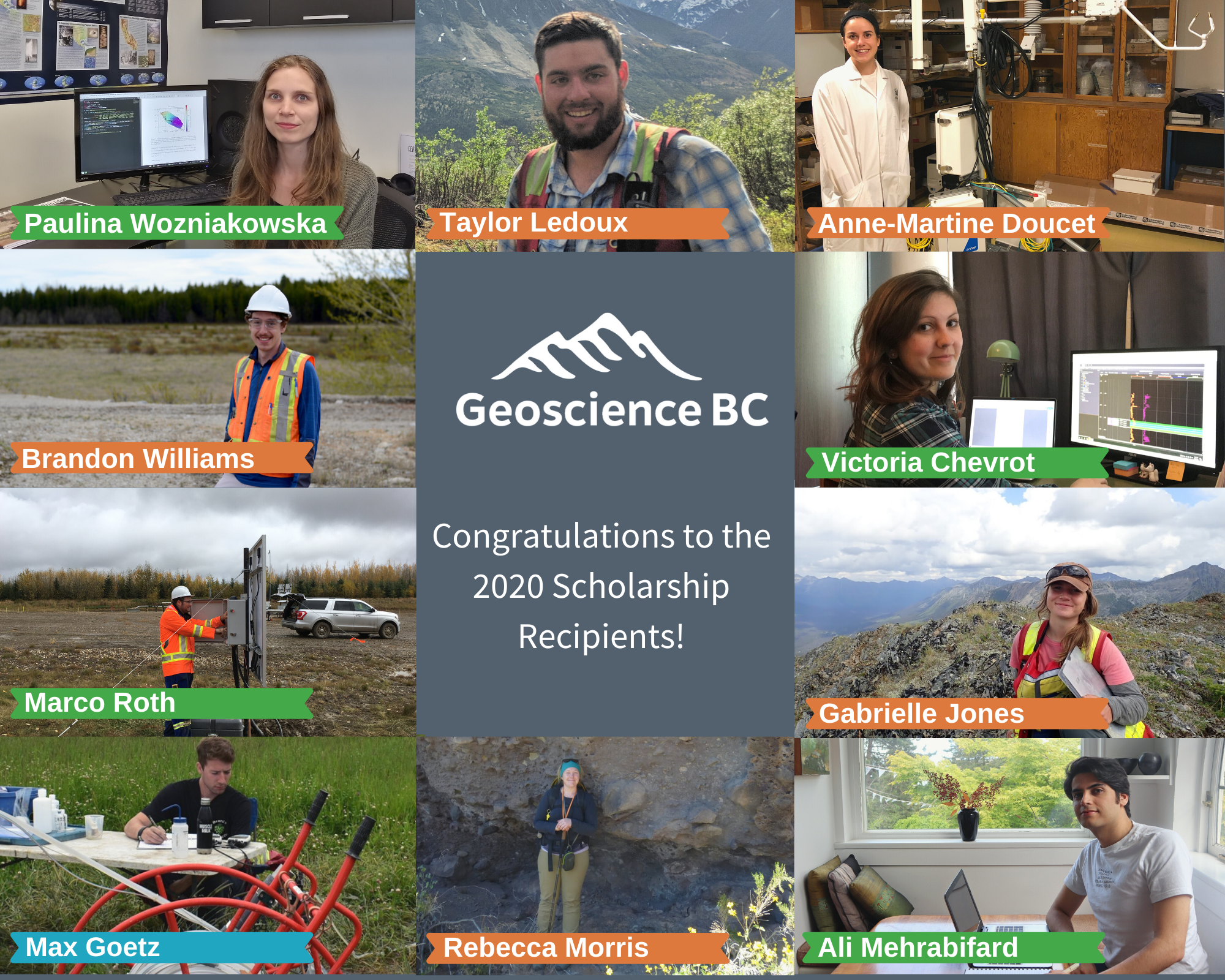 "Supporting the next generation of geoscientists and their research helps British Columbia to maintain its competitive edge," said Geoscience BC President and CEO Gavin C. Dirom. "Congratulations to the 2020 Geoscience BC scholarship recipients. We are proud to support your technical studies and celebrate your excellent work – we know that your success will only continue to grow."
Geoscience BC scholarships are awarded each year to up to 10 students who are registered and have started in a Masters (MSc) or Doctorate (PhD) program in earth science or geoscience. Since 2007, Geoscience BC has invested $620,000 to support students through scholarships.
Geoscience BC 2020 Scholarship Recipients:
Ali Mehrabifard
, University of British Columbia
Project: Mechanistic Investigation of Fluid Injection Induced Seismicity Integrating State-of-the-Art Triaxial Experiments and Numerical Modelling
Anne-Martine Doucet,
University of British Columbia
Project: In-field Measurements of Passive Carbon Dioxide Flux Rates in Mine Tailings and Natural Analogs
Brandon Williams
, Thompson Rivers University
Project: Prescribed burning as a tool to shift a reclaimed tailings storage facility dominated by agronomic grass to a native plant community
Gabrielle Jones,
University of Alberta
Project: Implications of in situ U-Pb, Lu-Hf, δ18O, and trace element geochemistry of accessory mineral phases on the petrogenetic history of the northern Hogem batholith, Quesnel Terrane, north-central British Columbia
Marco Roth
, Ruhr University Bochum
Project: Fault plane orientation and source parameter inversion of multiple earthquake sequences induced by hydraulic fracturing in the Dawson-Septimus area, British Columbia
Max Goetz
, University of British Columbia
Project: Characterizing dissolved methane in groundwater in the Peace Region, Northeast BC, using a regional, dedicated groundwater monitoring well network
Paulina Wozniakowska
, University of Calgary
Project: Determination of factors controlling geological susceptibility to induced seismicity in the Montney formation
Rebecca Morris
, University of Victoria
Project: Endoskarn mineralization along magma-carbonate contacts in the Merry Widow Mountain Area, Vancouver Island, British Columbia (NTS 092L)
Taylor Ledoux
, University of British Columbia
Project: Variability in Magmatic Porphyry Fertility Within and Between Arcs: Comparisons between British Columbia, Arizona, and Chile
Victoria Chevrot
, University of Alberta
Project: Modeling Fluid Migration and Distribution in Unconventional Reservoirs; an Example from the Montney Formation, British Columbia, Canada
Visit the Geoscience BC website to learn more about the 2020 Geoscience BC scholarship recipients or click
here
to access the web page directly.
About Geoscience BC
Geoscience BC generates independent, public geoscience research and data about British Columbia's minerals, energy and water resources. This advances knowledge, informs responsible development, encourages investment and stimulates innovation.
Our collaboration with the resource sectors, academia, communities, Indigenous groups and government develops and shares unbiased and credible earth science research and data.
Geoscience BC is a not for profit society incorporated under the BC
Societies Act
.
Visit
www.geosciencebc.com
or follow us @GeoscienceBC to find out more.
For more information, please contact:
Richard Truman
Geoscience BC
604-662-4147/778-929-1662
truman@geosciencebc.com