Online Access Preserves, Improves and Promotes Vital Mineral Collection in British Columbia
Smithers, BC – January 18, 2021
– A Geoscience BC project has restored, digitized and amplified the value of the Smithers Exploration Group (SEG) Rock Room, a curated 2,000+ piece mineral and rock collection used by prospectors, geologists, students and the public to understand the geology of British Columbia.
SEG will be at the online Remote Roundup mineral exploration and development conference from January 18 to 22.
Anyone registered for the conference can find them in the Regional Groups Lounge.
Over two years, SEG incorporated additional samples, promoted the collection and captured high-resolution digital photographs of samples from more than 20 ore deposit types, including samples from the Bell Copper, Brucejack and Mount Milligan mines.
SEG Rock Room Administrator Anastasia Ledwon said: "The Smithers Exploration Group Rock Room makes Smithers home to a unique and valuable tool for mineral exploration and anyone interested in geology. It will continue to attract student, industry and government attention to Smithers as a community committed to the sustainable growth of the minerals."
The SEG team worked with not-for-profit Below BC to capture high-resolution three-dimensional photographs of Rock Room specimens and uploaded them to
Below BC's online interactive map
, bringing them to a wider audience.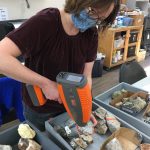 Geologist Lorie Farrell works in Smithers Exploration Group's Rock Room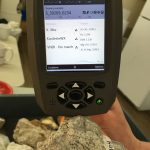 Smithers Exploration Group's Rock Room is home to more than 2,000 rock samples from across the province
SEG also developed an advanced mineral prospecting course using digital images, physical samples and online technologies. For the public, they worked with Below BC to create a self-guided tour of the Babine Lake-Hazelton area in which each stop has corresponding samples available to view in the Rock Room. This can be done in person (download the guide
here)
or virtually (view digital tour
here)
. As part of the project, SEG also made lighting and safety improvements at the Rock Room in Smithers.
Geoscience BC Vice President Minerals Christa Pellett said: "The SEG Rock Room, which hosts more than 2,000 rock samples from mineral deposits and rock units across the province, is an extremely valuable resource for training and teaching geology and Geoscience BC was pleased to able to support these upgrades."
Accessing Information
View the project pages (2018-012) for more information.
View project page
View project in Earth Science Viewer
About Geoscience BC
Geoscience BC generates independent, public geoscience research and data about British Columbia's minerals, energy and water resources. This advances knowledge, informs responsible development, encourages investment and stimulates innovation.
Our collaboration with the resource sectors, academia, communities, Indigenous groups and government develops and shares unbiased and credible earth science research and data.
Geoscience BC is a not for profit society incorporated under the BC
Societies Act
.
Visit
www.geosciencebc.com
or follow us @GeoscienceBC to find out more.
For more information, please contact:
Richard Truman
Geoscience BC
604-662-4147/778-929-1662
truman@geosciencebc.com
Join the Geoscience BC mailing list to receive the latest updates