Northern Vancouver Island Exploration Geoscience Project Update
September 19, 2012 - Geoscience BC is pleased to announce that the boundary of the Northern Vancouver Island airborne magnetic survey has been extended south towards Zeballos (see map below). The survey, which is being flown by Geo Data Solutions GDS Inc., is expected to be complete by the end of September. Geoscience BC anticipates being able to release this new data set in early 2013.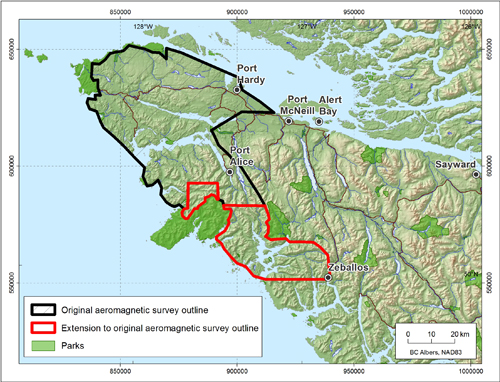 This airborne magnetic survey is part of the Northern Vancouver Island Exploration Geoscience project, which is designed to generate new geoscience data for northern Vancouver Island, including the communities of Campbell River, Port Hardy, Port McNeill, Alert Bay, Port Alice and Zeballos. This new regional information will help attract mineral exploration interest and investment, increase the understanding of the mineral potential, and provide local First Nations and communities with more information on the geology in their area.
In addition to the airborne magnetic survey, a stream sediment geochemical sampling and reanalysis program is being undertaken. New data collection is underway and results will be released in early 2013. The project is also supporting two community awareness courses on geoscience, mineral exploration and mining. The first of these short courses took place in August in Campbell River, and the second course will take place in Port Hardy October 27 and 28.
The NVI Exploration Geoscience project is funded through a partnership between Geoscience BC and the Island Coastal Economic Trust (ICET). In addition, the Ministry of Jobs, Tourism and Innovation has provided generous support for stakeholder engagement in the project development phase.
About Geoscience BC
Geoscience BC is an industry-led, industry-focused not-for-profit society. Its mandate includes the collection, interpretation and marketing of geoscience data and expertise to promote investment in resource exploration and development in British Columbia. Geoscience BC is funded through grants from the Provincial Government and works in partnership with industry, academia, government, First Nations and communities to attract mineral and oil & gas investment to BC.