Geoscience BC Welcomes Brady Clift, P.Geo., Manager, Minerals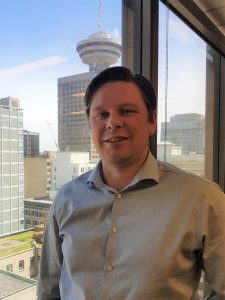 Vancouver, BC – May 6, 2019
– Geoscience BC welcomes Brady Clift to the new position of Manager, Minerals today. Brady is a registered professional geologist with a bachelor's degree in earth science and an advanced diploma in GIS Application.
Reporting to Gavin C. Dirom, President & CEO, and providing technical support to Christa Pellett, Vice President, Minerals, Brady will increase Geoscience BC's technical capacity to develop, implement and manage Geoscience BC's increasing minerals-related research projects and initiatives.
Commenting on the news, Gavin C. Dirom said: "We are pleased to welcome Brady to the Geoscience BC team. He will play a key role in managing the important minerals research that we have underway and successfully achieving Geoscience BC's mineral-related strategic objectives set out in our 5-year Strategic Plan."
Brady brings more than 10 years of industry experience working in mineral exploration and development in western Canada, including hands-on technical field work, as well as supervising exploration programs, managing geochemical and geophysical data, building geological models, and preparing technical reports.
Before joining Geoscience BC, Brady held the position of Project Geologist with ALX Uranium Corp. Prior to his role at ALX, Brady gained professional experience working as an exploration geologist at the Red Chris copper-gold porphyry mine located in northwestern BC, as well as working as a geologist with several junior exploration companies.
About Geoscience BC
Geoscience BC is an independent, not for profit organization that generates and distributes public earth science research about British Columbia's minerals, energy and water resources that advances knowledge, informs responsible development, encourages investment and stimulates innovation. Geoscience BC's vision is to be a leading partner and provider of credible and relevant earth science research and data in British Columbia.
Visit
www.geosciencebc.com
or follow us @GeoscienceBC to find out more.
For more information, please contact:
Richard Truman
Geoscience BC
604-662-4147
truman@geosciencebc.com