Geoscience BC TREK Project Update
July 23, 2013- Geoscience BC is pleased to announce that an agreement has been reached with Amarc Resources Ltd. ("Amarc") to purchase airborne magnetic data over two separate areas within the larger TREK project area.
The data purchased is comprised of several helicopter-borne magnetic surveys flown over Amarc's Galileo and Hubble properties. The purchase of this industry data has allowed Geoscience BC to extend the TREK airborne magnetic survey boundaries to the west and northwest (see map below). The Amarc data will be merged with the larger fixed-wing survey data that will be collected by Aeroquest Airborne Ltd. this summer and fall, and publicly released in early 2014.
The TREK Project, launched in early 2013, is focused on a highly prospective area for mineral resources that remains underexplored due to complicated and poorly understood bedrock geology and overburden. In addition to the airborne survey, the TREK Project will include several other exploration geoscience activities including regional geochemical sampling (stream, lake, soil and till), biogeochemical sampling, geological mapping plus mineral deposit studies as well as sampling designed to evaluate geothermal potential in the region. The geochemical sampling program began in mid-June and is expected to wrap for the season in September. For more information, visit our project page at www.geosciencebc.com/s/TREK.asp.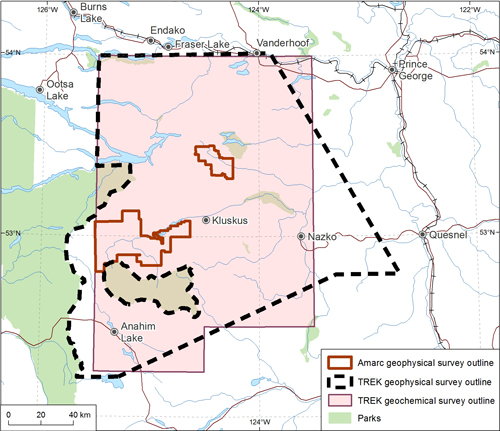 ---
Geoscience BC
Geoscience BC is an industry-led, industry-focused not-for-profit society. Its mandate includes the collection, interpretation and marketing of geoscience data and expertise to promote investment in resource exploration and development in British Columbia. Geoscience BC is funded through grants from the Provincial Government and works in partnership with industry, academia, government, First Nations and communities to attract mineral and oil & gas investment to BC.
Geoscience BC is now on Twitter! Follow us at twitter.com/geosciencebc