Digging Deep: Mapping Geoscience BC's Future
By: Gavin C. Dirom, President & CEO
Since our inception in 2005, Geoscience BC has proven that the made-in-British-Columbia approach of a not-for-profit independent geoscience society provides a strong economic, social and environmental return on investment. Now, we are looking at ways to further improve the model as the progression to a lower carbon economy will only increase demand for BC's natural resources, and in turn for quality public geoscience to inform decisions about our mineral, energy and water resources.
In recent years – and especially throughout the COVID-19 pandemic – the pace with which scientific research demands have changed has accelerated rapidly. For example, the launch of the
Canadian Minerals and Metals Plan
and accompanying
Critical Minerals List
is igniting new and different conversations about mineral exploration and development in BC to support increased electrification globally. And with net zero emissions targets set by governments and industry, we are seeing more demand for and use of our geothermal research and significant interest from hydrogen and low carbon intensity natural gas producers to identify the most favourable geological carbon capture, utilization and storage options in the province.
Our model is effective and efficient, and provides a great base to launch another generation of successful projects. Forever striving to improve, Geoscience BC collaborates with resource sectors, academia, communities, Indigenous groups and governments to develop and share unbiased, peer-reviewed earth science that attracts investment and supports evidence-based decision making.
We believe that our existing model will continue to be successful, but we see a real opportunity to seize the moment: a chance to deliver even better value, serve the innovative geoscience needs of tomorrow, while pivoting to attract significant research and development investment from new funding sources. We don't yet know exactly how this will look, but we are thankful to our wide network of partners and volunteer Board and Technical Advisory Committees for suggesting exciting partnership opportunities and identifying the most relevant research programs.
Your Input
To plot the best possible course, we are also asking for your feedback. The survey below takes less than five minutes to complete yet could inform Geoscience BC's future for more than five years. Please take a few moments to complete it. The results will be considered alongside input from Geoscience BC volunteers, staff and trusted partners, and I am confident will help us deliver an even brighter future for Geoscience BC.
Survey now closed
Why Geoscience BC?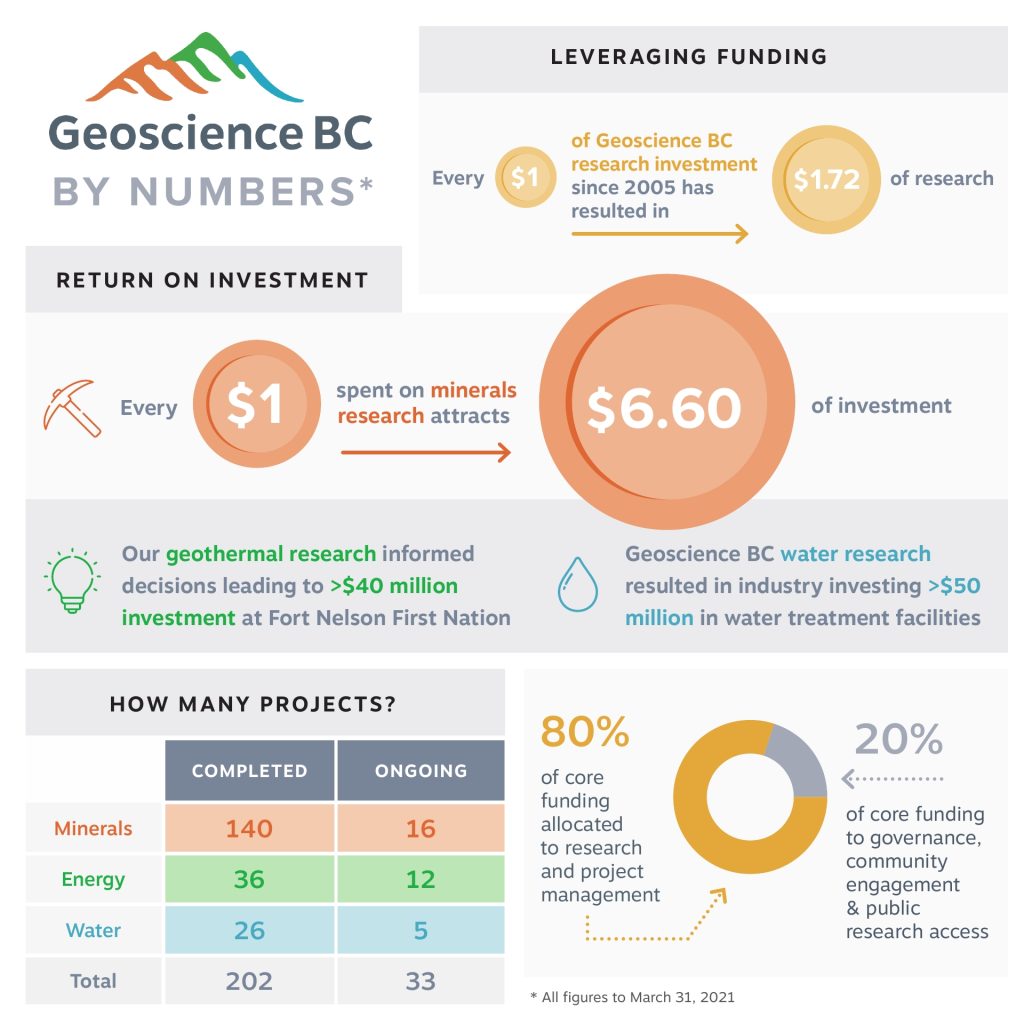 Our research attracts critical mineral exploration investment, supports Environmental, Social and Governance (ESG) commitments and has earned the trust of communities, Indigenous groups, governments and industry alike. It has played a role in extending the life of the Huckleberry copper mine; influenced major industry investment in water treatment facilities; and informed significant investment decisions in an Indigenous-owned geothermal energy project in northeast BC and in clean power for the Lower Mainland. Public support of who we are and what we do is demonstrated by resolutions passed by the BC Chamber of Commerce, the North Central Local Government Association and Union of BC Municipalities calling for continued funding of Geoscience BC.
Thank you for your time, input and support!