Digging Deep: AME Roundup 2022 – Q & A with Kendra Johnston, President and CEO, AME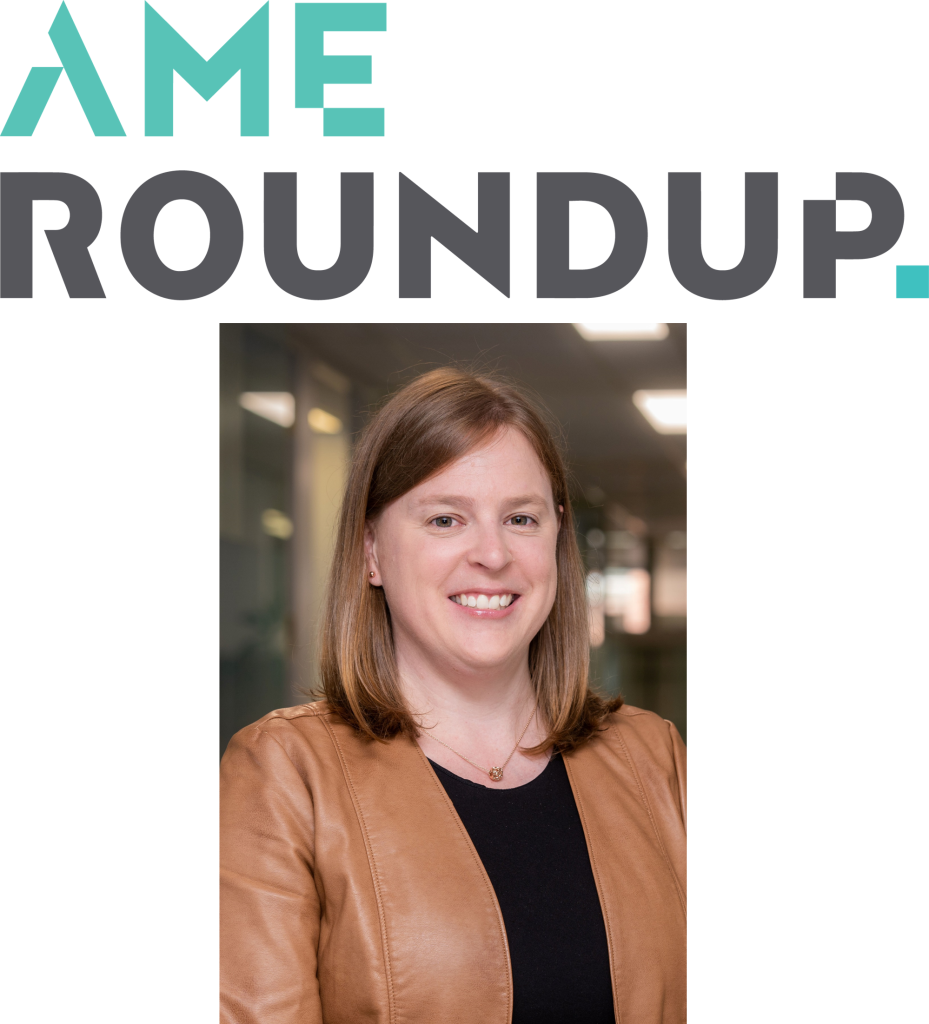 Geoscience BC welcomes Kendra Johnston, AME President & CEO as a guest in the latest edition of Digging Deep. Kendra answers questions about the AME Roundup 2022 conference and highlights what to watch for at the hybrid event running from January 31 to February 3, 2022.
1. The theme of AME Roundup 2022 is "Engage. Connect. Evolve." What does this mean to you, and what conversations are you hoping it will encourage?
The conference theme "Engage. Connect. Evolve." is designed to bring people together after another challenging year. Over the course of 2021, we heard from AME members a desire to reconnect and test the waters of the 'new normal'.
At AME Roundup 2022, I am looking forward to hearing and participating in conversations about how our industry is evolving. The conference has always been a place to share best practices. Sometimes that means engaging in conversations about innovation and new technologies for discovery, or how we can change our workplaces and systems to be more equal, diverse and inclusive, or finding our place in the supply chain and how we contribute to a low carbon future. The evolution happens when we connect, get together and share ideas, meet new people and re-ignite that spark for making our industry better.
2. What are some of the geoscience highlights to watch for at AME Roundup 2022?
One of the most exciting traditions for me is when companies choose to release their exploration results at AME Roundup. The timing this year is fortuitous because, for the last few months, assay results have been delayed, and I think this means that we are in for lots of exciting announcements at AME Roundup. This should keep the Exhibit Hall, including the Core Shack, Project Generators' Hub and Prospectors' Tent, buzzing with new deals and the potential emerging area plays for all four days.
Of course, the poster session is rich with new geoscience and innovative ideas. We know AME members love strolling through the poster session and hearing from the researchers during the presentations. It's certainly the place to discover new talent and be the first to hear about clever geoscience applications.
I'm looking forward to hearing about new geoscience tools and techniques and how they are performing in field trials from the presenters in the Additions to the Geoscience Toolbox session. I see there are Geoscience BC-supported projects, including two projects focused on central BC; Dianne Mitchinson's (MDRU-UBC) work targeting porphyry deposit host rocks using geophysics in central BC and Palmer Dave Sacco's (Palmer) development of emerging strategies for under cover exploration.
3. What else would you recommend delegates add to their AME Roundup 2022 'must see' list?
Our 2022 conference marks the 10
th
anniversary of The Gathering Place. This year we're going to be reconnecting with some presenters who spoke at previous Gathering Place sessions to see how the people and projects have evolved. And if you are interested in policy, you won't want to miss the Government-Industry Forum. We will be releasing results from the Explore our Economy economic impact study that measures the financial and social impact of mineral exploration in BC. We'll also be diving into issues around permitting, ESG and how explorers can contribute to achieving the spirit and intent of the Declaration on the Rights of Indigenous Peoples Act.
4. What recommendations do you have for students and educators visiting AME Roundup 2022?
My advice to students and educators is to come armed with questions and take the time to walk through the Exhibit Hall and have conversations with company representatives. We have a great cross-section of mineral exploration companies and service and supply companies this year. It is a great place to test your preconceptions of the industry and discover the reality of what the mineral exploration industry is doing on the ground when it comes to environmental responsibility, community engagement, and working towards reconciliation.
5. For many, AME Roundup 2022 will be the first big in-person event since the beginning of the COVID-19 pandemic in early 2020. What advice do you have for anyone attending in person?
Safety is our top priority at AME. We have put in place precautions to protect attendees, from checking vaccine status to encouraging social distancing and offering COVID-19 testing on site. In addition, it also comes down to each and every one of us doing the best we can to keep ourselves and our colleagues safe. That means wearing your mask and keeping safety top of mind for the whole conference. Beyond this, it means creating a safe space where everyone feels welcome, whether arriving on foot or in a wheelchair or pushing a stroller. AME Roundup welcomes everyone, and always shall.
About Kendra:
Kendra is the President and CEO of AME.  She is a Professional Geologist and senior mining executive with over 15 years of experience in various facets of the mineral exploration and mining industry. Having spent most of her career working in BC and Yukon, she is a passionate industry advocate for responsible mineral exploration.
Roundup details:
AME Roundup 2022
Monday, January 31, 2022 – Thursday, February 3, 2022
In-person at the Vancouver Convention Centre West and Online
Visit:
https://roundup.amebc.ca/