New Energy Project Set to Revolutionalize Water Treatment at Natural Gas Sites

Vancouver, BC – May 6, 2021 –
Geoscience BC and NGIF Industry Grants (a division of NGIF Capital Corporation) are supporting Saltworks Technologies Inc. to develop its
AirBreather
evaporator-crystallizer.
Saltworks'
AirBreather Pilot
uses excess heat from natural gas production to efficiently and effectively treat produced water on-site. The project will test its innovative evaporation system on saline (salty) produced water samples, collected from natural gas operations in the Montney Play in British Columbia's Northeast Region. Produced water is water that flows to the surface with gas and oil during the production process.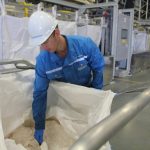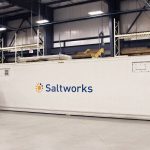 AirBreather
units turn saline produced water into clean water for reuse, or into water vapour for safe release into the atmosphere. Saltworks has estimated that the natural gas sector spends approximately $180 million per year managing ponds and transporting saline water from production sites in northeastern BC. The technology being tested is predicted to reduce the need of transporting water for disposal and maintaining local water balances, while reducing operating costs.
"On-site treatment with
AirBreather
cuts the number of trucks on the road hauling wastewater between sites, reducing greenhouse gas emissions and the impact of natural gas operations," said Henry Tsin, project lead and Vice President of Commercial Development at Saltworks Technologies Inc. "We estimate that on-site water treatment saves 30% over the cost of traditional disposal methods."
AirBreather
testing will take place at Saltworks' Richmond, BC facility, using samples of produced water from BC's Northeast region, where hundreds of natural gas production sites produce approximately 87 per cent of BC's natural gas from the Montney Play.
"Saltworks'
AirBreather
is an inventive evaporation alternative that is designed to garner positive environmental results," said John Adams, President and CEO of NGIF Capital Corporation. "NGIF is proud to once again support Saltworks as they demonstrate a commitment to innovation, affordability, and environmental performance."
Geoscience BC Executive Vice President and Chief Scientific Officer Carlos Salas said, "Geoscience BC aims to use advanced science and innovative geoscience technologies to improve the environmental and economic competitiveness of Montney Play natural gas operations. Supporting Saltworks' made-in-BC
AirBreather
is an important step towards meeting that goal."
"Supporting Saltworks' AirBreather is yet another example of the gas industry's commitment to work across the value chain to improve environmental performances while maintaining reliable, affordable energy services," said Timothy M. Egan, President and CEO of the Canadian Gas Association and Chair of NGIF Capital Corporation.
The project is co-funded by Geoscience BC, NGIF Industry Grants, Sustainable Development Technology Canada, and BC's Innovative Clean Energy Fund.
Accessing Information
View the project pages (2020-001) for more information.
View project page
View project in Earth Science Viewer
About NGIF Capital Corporation
NGIF Capital Corporation is a Canadian venture capital (VC) firm offering grant and equity financing for startups that deliver solutions to the environmental and other challenges facing the natural gas sector. NGIF Capital Corporation is unique in how it brings Canada's energy industry leadership to every investment.  Like other VCs, it takes new companies and their ideas from concept to commercialization.  Unlike other VCs, NGIF Capital Corporation has strong connections to every part of the gas value chain, from production through to end-use, offering it a means to test, develop, and accelerate the commercial implementation of innovative gas technology wherever it fits in the sector. The model benefits consumers, investors, and Canadian society as a whole. NGIF Capital Corporation operates NGIF Industry Grants (the original Natural Gas Innovation Fund), the NGIF Emissions Testing Centre, and NGIF Cleantech Ventures. NGIF Capital Corporation is wholly owned by CGA Enterprises, a venture of the Canadian Gas Association.
About NGIF Industry Grants
Natural Gas Innovation Fund (NGIF) Industry Grants is a first-of-kind, industry-led grant organization created by the Canadian Gas Association to fund early-stage startups developing solutions to environmental and other challenges facing Canada's natural gas sector. NGIF Industry Grants develops, demonstrates and de-risks these technology solutions through field trials and pilot projects to drive innovation and support environmental goals in Canada. NGIF Industry Grants' investment focus is on existing natural gas production, transmission, distribution, storage, and end-use applications, as well as projects that will lead to the expanded production of emerging gaseous fuels like renewable natural gas and hydrogen. The organization has built a portfolio of startups, trusted partnerships with government for co-funding opportunities, and a robust technical evaluation investment model. NGIF Industry Grants is operated by NGIF Capital Corporation.
Media Information
Sarah Robinson
Manager, Communications
NGIF Capital Corporation
613.282.1126
srobinson@cga.ca
Fund Information
John Adams
President and CEO, NGIF Capital Corporation
Managing Partner, NGIF Cleantech Ventures
613.748.0057
jadams@cga.ca
About Geoscience BC
Geoscience BC generates independent, public geoscience research and data about British Columbia's minerals, energy and water resources. This advances knowledge, informs responsible development, encourages investment and stimulates innovation.
Our collaboration with the resource sectors, academia, communities, Indigenous groups and government develops and shares unbiased and credible earth science research and data.
Geoscience BC is a not for profit society incorporated under the BC
Societies Act
.
Visit
www.geosciencebc.com
or follow us @GeoscienceBC to find out more.
For more information, please contact:
Richard Truman
Geoscience BC
604-662-4147/778-929-1662
truman@geosciencebc.com